Turn your home
into the classroom
Emma Academy was founded with a dream
to help every world citizen speak English.
Today, everyone recognizes the importance of learning the English language. Moreover, the advent of the Internet has made learning English online a better option than doing it in a traditional classroom. The ability to speak and write English properly allows people to advance in the professional world. Being able to speak in English also widens one's horizon in communicating globally. Proof of the necessity of learning English is the proliferation of websites that offer English lessons online. Another proof is the increasing number of people who prefer this medium of learning every day.
​
Started in 2018, our founder, Mr. Cliffton Campos, CEO & Academic Director set out on this mission to give students access to the best English education available, and by working together with teachers from across the world, this mission will soon become a reality.
​
Our business model is not based on generating income but providing value and knowledge.
We believe that the English language learning should be accessible to all including the poor section of society and not sold as a luxury as all online institutes do.
​
This is where EMMA ACADEMY comes in. We provide our students with the cheapest prices possible for learning the English language with over 75% reduction in prices compared to other online English teaching institutes.
We believe that education is vital to everyone on this planet. With a passion for education, compassion for teachers, and advanced technology, we believe we can provide high-quality education for people everywhere and narrow the education gap between the privileged and underprivileged.
We Always Have Students
​
​
With Emma Academy, you never have to worry about having an empty schedule. We will always arrange a class for our teachers.
You Choose your own Hours
​
​
Work at your convenience, maintain a work-life balance that you always wanted. Spend part-time hours teaching and get paid
Your Career Development Matters
​
This is more than just an online job. EA gives you an opportunity to gain international working experience. We provide a chance for you to work from home.
You have our full support
​
​
Our dedicated team of coordinators assist our teachers with all their needs. Let us handle all the hassle so you can focus on what matters: teaching!
Home-Based Online English Teacher
Pre-elementary, Elementary (A1/A2), Intermediate (B1/B2)
Advanced C1 level.
"Grow With Your Students + Turn Time Into Money = Emma Academy
Fixed Student:
Once a student is allotted to a teacher, the student is fixed to that teacher until the end of the course which at times runs into months of learning
​
Inspiring Career:
Teaching is important and so is growth! We will soon start providing training courses to help our teachers be better equipped and achieve more.
​
Flexible Schedule
Set your own schedule, and location is not a problem. You can be a superstar teacher and work from home.
​
Working hours:
6 to 40 hours per week
Available slots: Throughout the week (flexible schedule).
Our students are from Post-Soviet Countries
Russia: GMT+3, India GMT +5.30
We offer an excellent pay-out per lesson of
60 minutes
​
Bonus for higher-performing teachers
​
Successful teacher referral fees
Qualifications and Requirements
Speak English at an idiomatic level
In order to get started with teaching English online, you'll need to have:
​
Speak English at an idiomatic level (neutral / western accent)

Bachelor's degree in any major, BA degree or above (desirable)

An ESL teaching certification is not mandatory but preferred (such as TESOL/TEFL/CELTA etc.)

Stable and strong internet connection
Some classroom teaching experience, while not strictly required, is also considered an asset.
​
However, if you are a native English speaker, it is possible to teach English online with no experience if you have a university degree.
​
You'll need to ensure you have a stable internet connection and a functioning computer or laptop with a microphone and webcam, as well as a quiet space to teach online English lessons.
​
Once hired, you will be working on a one-on-one basis with students via skype which allows teachers and students from all over the world to connect and learn.
from minimum
​
₹

30,000+
​
per month @ 4h/day
Up to
​
₹

70,000+
​
per month for full time
Frequently Asked Questions
Getting Started
Can I apply if I don't have a Bachelor's degree?
---
Emma Academy requires applicants to have at least a Bachelor's degree.
---
What are the teaching requirements?
---
Emma Academy recruitment team has a criteria to ensure Emma Academy delivers high teaching quality. Some of the basic requirements we prefer teachers to have are:
Speak English at an idiomatic level / Near-Native / Native level (neutral accent)
Hold a any university degree or above (desirable)
Passport (Mandatory for registration)
Teaching certification is preferred but not mandatory
Stable and strong internet connection
Teaching experience is preferred but not mandatory
Sound knowledge of using the internet
You may contact us on careers.emmaacademy@gmail.com if you need more time to prepare the documents. Emma Academy will provide help to support this process.
---
Where do I have to live in order to be eligible to work for Emma Academy?
---
Anywhere.. really!! You can work with Emma Academy from anywhere in the world as long as you have a stable internet connection (your home, office or any other place silent enough to conduct an online lesson).
---
How do I sign-up for the job?
---
1. Record a 1-3 minute video of yourself wherein you will speak in brief about yourself, your background, your qualifications and your teaching abilities, and why you would like to teach English online. In a nutshell, an introductory video for the students to know their teacher and help them choose you as their teacher. 2. Whatsapp the video to +91-96996-45738. Please include your name in the message body so we can identify you. Due to the large no. of applications that we screen on a daily basis, it is difficult for us to hold personal or skype interviews. Video profiles from teachers help us to easily select and shortlist profiles. You will be shortlisted based on the video you send. Once shortlisted, you will be contacted for further formalities and an offer will be made.
---
What equipment do I need to start teaching?
---
You will need:
A computer/laptop with a webcam.
A headset with microphone.
Stable Internet connection (wired or 4G connection preferred).
Google Chrome browser.
A skype account.
---
Can I apply if I don't have a Passport?
---
Emma Academy requires applicants to have a valid international travel passport of any nantionality. This is required for international registration with our partners and relevant authorities. However, we may consider your application based on an Indian document but eventually we will require the passport (Main page only). To minimize the risk of teachers committing online crimes and frauds, we need proper identity documentation to be in place. Passports are required to mitigate risk from online identity fraud and for KYC compliance.
---
What documents will I have to submit in case I am selected?
---
1. A profile photo. Click here to know more. 2. A color scan of the passport main page.
3. Photo (selfie) with the passport main page
Note: Emma Academy always strives to provide safety and security to it's students by ensuring that proper identity documentation is in place and that our teachers meet Know Your Customer (KYC) requirements. The passport is the only National Identification we accept. Due to the increasing number of document manipulation cases and to mitigate the risk of identity fraud, we require all applicants to comply with requirement no. 2 and 3 above. **Please read our privacy policy which ensures 100% confidentiality of your documents. Furthermore, to verify your personal data, we use the services of Sum & Substance Security Technologies LLC. Information is processed in accordance with the law of the Russian Federation of July 27, 2006 No. 152-FZ "On Personal Data". 4. Scan copy of your 12th std certificate, graduation certificate and any other higher qualification certificate and marksheets you may have. 5. Scan copy of other education certificates, PG courses, ad-on certificate courses, experience certificates, etc, that could strengthen your tutor profile. 6. An introduction video for the students. Click here to know more. This video may be sent via whatsapp on +91 750 77 405 62. All selected candidates will receive a link from the HR dept. to upload the above above documents.
---
How long does it take to get listed on Emma Academy?
---
The process of getting listed on Emma Academy is extremely simple and quick. You just need to clear an online assessment and/or provide a demo video to our experts along with the required documents. On an average the entire process can be completed within a week's time.
---
---
Teacher Interview
Will I have to answer an interview?
---
You will have an interview with the HR as part of your hiring process. The interview is very important as it, along with your qualifications, decides whether or not you will be accepted to work with Emma Academy.
---
What are must-dos to be successful at the Emma Academy interview?
---
The interview will be conducted via skype video call and not in person.
Call from a place with a good background and lighting.
Good internet connection (wired and 4G connection preferred).
A headset with a microphone and a webcam (HD webcam preferred).
Simply, speak about your career be it in teaching or not. Talk about any other certification you have like a teaching certificate, etc. and tell us what makes you an ideal candidate for the position.
---
---
Becoming a Teacher
How many students do I teach in each class?
---
All Emma Academy classes are 1 on 1 basis to ensure that we meet 100% of each student's needs. However, at times students may want to have classes with their family members or friends which will be a group lesson.
---
When and how will the teachers be paid?
---
Teachers are paid in the first week of the following month for all lessons conducted in the current month. It takes us about 4-5 days to track lessons and finalize payments. Hence payments are made by the end of the first week. Preferred mode of payment is UPI wherein we would need the teachers UPI registered mobile number. We could also wire the payment via direct bank to bank transfers (or other transfer options). Please note that some bank transfers may take 2-3 business days or more to effect the transfer.
---
Does Emma Academy pay teachers' tax?
---
Our teachers will be responsible for their own taxes in accordance with their individual tax jurisdictions or state laws. Emma Academy will not be responsible or liable whatsoever to pay or assume the taxes of their teachers.
---
Do I need to Sign any contract or bonds?
---
Emma Academy doesn't have any limits for agreement length and doesn't sign any contracts or bonds. In other words, it all depends on how you prefer, but we will suggest you to have at least consistent 6-month teaching schedule because it helps you to build a strong relationship with your students and it makes sure that the students are not stranded in the middle of the course and have to deal with another teacher.
---
Can teachers take breaks during the contract agreement?
---
Please apply for the short-term leaves at least 24-hours in advance.
Please apply for the long-term leaves at least 15 days in advance.
---
How long is each class?
---
Each regular class is 60 minutes of active teaching and interacting time. Teachers are free to extend this time as per their wish and lesson length but every student is supposed to have only a 1-hour class. This translates to a teacher's fee for 1 hour only. The teacher will not be paid extra for any extra time.
---
What hours could teachers pick?
---
The timings are completely flexible. As we get new students, they choose a teacher based on the teacher's profile. A coordinator will setup an initial chat with the teacher wherein the teacher and the student will discuss and schedule regular lessons as per their convenience. We always try to ensure that all our teachers get students. If the teacher is not able to take up the class, the student will simply choose another teacher. As we deal with teaching English to non-English speaking countries like Belarus, Belgium, Bulgaria, China, Croatia, Finland, Germany, Russia, Ukraine, etc, teachers may have to work odd hours to match the difference in time zones. Our students are in GMT +3 time zone. (India is 2.5 hours ahead of the countries we teach)
---
Can the teacher choose which nationality they want to teach?
---
Unfortunately, no. Teachers cannot choose a particular student based on their nationality. Students will be assigned to teachers by Emma Academy based on the teacher's specializations and course teaching preferences.
---
How many times a week does a student take a lesson?
---
90% of the students opt for twice a week classes. Very few working class student opt for once a week classes.
---
What are the minimum working hours per month?
---
As a minimum, a teacher is expected to take: 6 lessons a week (3 students, each taking 2 lessons per week) or 6 students taking 1 lesson each per week or a combination of both). The above would mean a minimum of 24 classes per month. Maximum limit? How many can you? A teacher can opt to teach upto 8 classes per day x 30 days depending on the allotmentment of students. The more classes you take, the more difference you make!
---
Do the teachers need to pay to get this job?
---
It's as simple as this, NO! Emma Academy never takes any money/fees/deposits/registration fees, employment fees or any payment in cash, kind or any other form from teachers for giving online tuitions. Emma Academy is providing these vacancies as a "completely free" home-based job opportunity. We do not deduct any fees for whatsoever reason nor do we have any hidden fees. A teacher will never have to pay us any money for whatsoever reason. Please beware of fraud: If you are ever approached by any person or company posing to be Emma Academy and demands payments for a job, please NEVER PAY and bring the matter to our attention on our contact number or the email address provided on this website www.emmaacademy.org
---
How much does an average teacher earn with Emma Academy?
---
On an average, teachers earn more than INR 30,000 per month. Assuming a teacher devotes a minimum of 3 hours per day, he/she can easily earn an average of INR 30,000 per month.
---
Are there any courses provided to the students by Emma Academy?
---
The students who enrol with us do not have access to the English language in their daily lives. We do not have any courses that we offer the students. Our students come from different age groups and are at different levels of English. Also, the lessons are held via skype on one-on-one basis, hence the teacher will first identify and assess the level of the student, understand the exact language goals of the student and curate lessons and create a plan to attain that goal. However, Emma Academy has a wealth of links and resources that will be provided to the teachers for free.
---
How can the teachers track their students and classes?
---
Every teacher will be provided with an integrated online Excel tracker which will track your students, keep track of your completedclasses and update your payments, allow the teacher to maintain a calender, etc.
---
What fees are the teachers paid per hour?
---
At Emma Academy, an everage teacher earns about 30k to 70K a month taking 3+ lessons everyday. Emma Academy has 2 pay grades which we offer our teachers: 1). General Pay Grade (All Levels - A1, A2, B1, B2, C1) - General English - Spoken Conversational English - English for Work / Business English - Interview Preperation Course - English for School / Academic assistance 2) Special Pay Grade (All Levels - A2, B1, B2, C1) - IELTS Training - TOEFL Training - International Exam preperation - Other special courses
---
I do not have online teaching experience, will Emma Academy assist me in any way?
---
In every way! Our HR department, our teacher support team and a dedicated coordinator will assist you right from the beginning. How to conduct online classes, how to structure the lessons, respources for the lessons and a lot of other important information and guidance will be provided to the teachers.
---
How will I get new students?
---
Emma Academy has recently rolled out a 'Smart Teacher Platform' which enables our teachers to directly get in touch with prospective students looking to learn English. Our registered teachers are provided with login credentials wherein they can control their profiles and apply to students and chat with them directly. Our platform receives an average of 350 orders daily with the bulk of the order submitted between IST 6:00 pm to 2:00 am. Assuming that a teacher wishes to take 3 lessons daily, and assuming each student takes 2 lessons every week, a teacher would need only about 9 students to fully fill their schedule. Piece of cake really!!
---
---
Teaching Guidelines
How are the online lessons conducted?
---
- Lesson are conducted via skype and NO other platform. - The teachers have to create a seperate skype account only for the students of Emma Academy. It is advisable that the teachers also install the skype mobile app to enable you to attend and reply to student queries or have a quick skype call with a new student looking to schedule their first lesson.
---
How is a teachers performance evaluated?
---
The first skype lesson will have to be recorded by the teacher from start to finish. A screen recorder application will be provided by Emma Academy which will be installed on the teacher's computer. This recording will than be uploaded/sent to Emma Academy. We also take feedback from students and take into considertion other factors to evaluate a teacher's performance.
---
Do the teacher's have to follow any rules and regulations?
---
The below regulations are STRICTLY to be followed by every teacher. Failure to abide by these rules will result in immidiate termination of the teacher.
Never ask (directly or indirectly) for any kind of contact details of the student, initiate a conversation or allow a conversation to continue with an aim to extract such information. Such information is strictly administrative and confidential.
Never ask for (directly or indirectly) any kind of course fee related information from the student, initiate a conversation or allow a conversation to continue with the aim to extract such information. Such information is strictly administrative and confidential.
All questions from the students related to the administrative part of the institute are to be directed to the administration. (e.g. Payment related questions like how to pay, can I pay later; can you tutor my husband as well and similar other administrative questions not related to teaching. – A good way to answer such question would be to tell the student that you will check and get back to them after the class. Such information is to be passes to your coordinator who will handle the queries with the student.
The first lesson with the student is STRICTLY to be recorded and uploaded/sent to Emma Academy.
---
What are the Emma Academy Community Guidelines?
---
The Emma Academy community is where language learners and teachers from all over the world can connect with one another and help each other reach their language learning goals. Emma Academy's default position is not to delete, censor, or edit user generated content in any of EA's user and teacher profiles and public forums. However, there are cases in which we may take the extraordinary step of editing or removing user content and in some cases deleting and banning users for violating any of the guidelines. Please click here to view the community guidelines.
---
What is the Lesson Policy of Emma Academy?
---
Emma Academy wishes to ensure clarity so that everyone can have a positive experience connecting with teachers or language learners. We believe that our users are respectful and considerate of each other and we want to encourage this behavior. Click here for an explanation of some of the situations you may face.
---
---
Emma Cares Initiative
What is Emma Cares Initiative and why is it important?
---
Emma Cares is a social service initiative by Emma Academy to further our mission in making a difference. This initiative is very important because here we cater to the underprivilaged section of the Russian society. We provide English tution to underprivilaged Russian students who do not have access to English studies unlike Indian students. Please call on 914-55-11-772 to know more about this initiative.
---
What is the Emma Cares Lessons charity project?
---
We offer tutors to conduct English lessons (for all levels) with people from low income groups. Hence, teachers enrolled on this project are paid accordingly. Our business model is not based on generating income but providing value and knowledge. We believe that the English language learning should be accessible to all including the poor section of society and not sold as a luxury as all online institutes do.
---
What's in it for the teachers?
---
We are looking for teachers who truely believe that Teaching is a noble profession and who are willing to sacrifice to make a difference. 1. Fixed Pay rate of INR 200/hour 2. Flexible schedule 3. More than 5 lessons per day 4. Emma Cares Certificate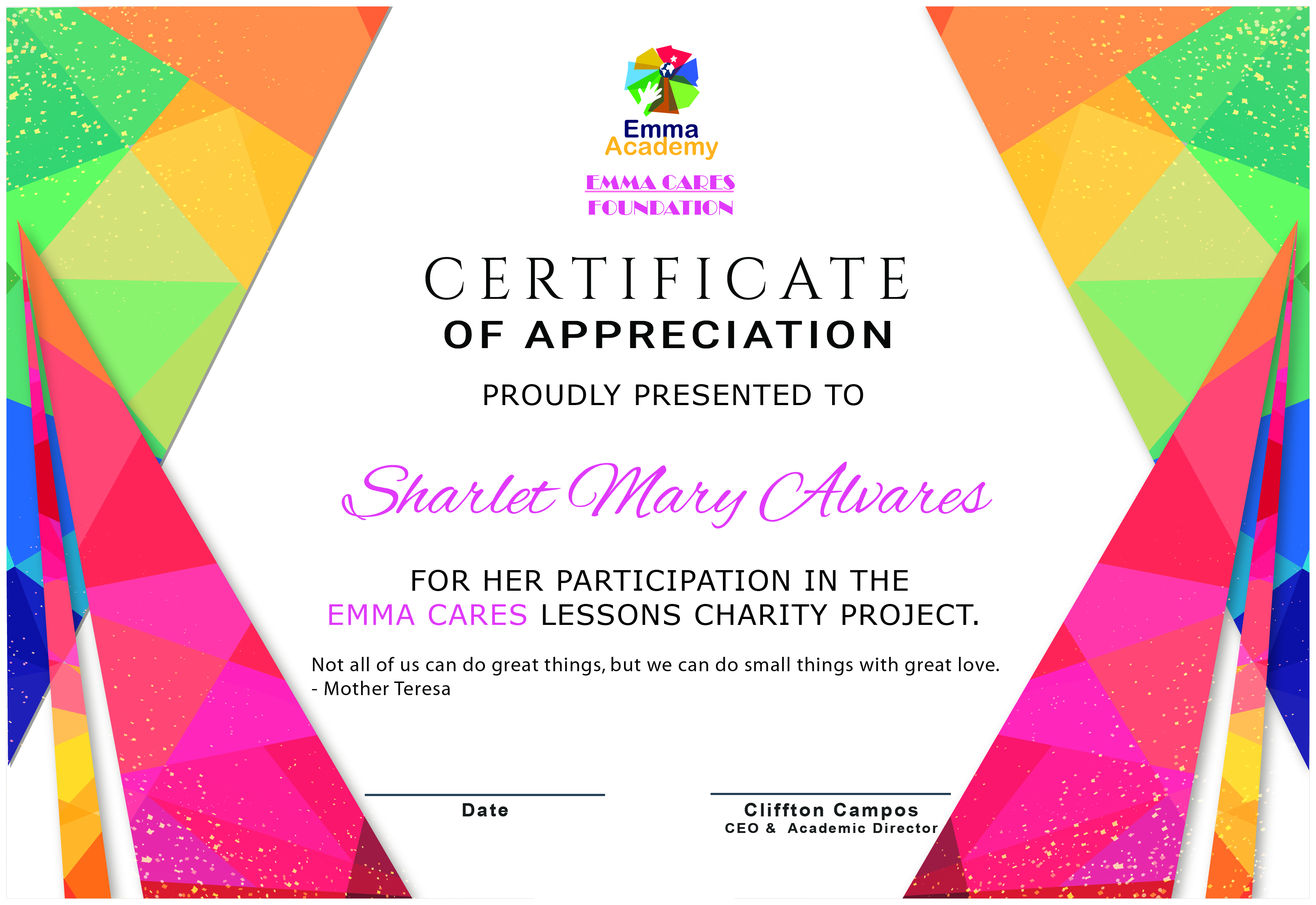 5. The pride in knowing that you are catering to the less privilaged section of society
---
Can teachers enrolled on the Emma Cares also do normal lessons of Emma Academy?
---
Yes, teachers may take up lessons as per the normal pay scale and also do lessons from Emma Cares. However, teachers enrolled on the Emma Cares project will be given students from Emma Cares as first priority.
---
---
Not all of us can do great things, but we can do small things with great love.
- Mother Teresa
Emma Cares is a social service initiative by Emma Academy to further our mission to make a difference.
THE WORLD IS WAITING FOR YOU
Office Address: Emma Academy, Near Socorro Panchayat,
Alto Porvorim, Bardez Goa
Office timings: Monday to Saturday, from 10:00 am to 5:00 pm